The Overview tab on the strategy page of the Social Trading app details a number of important things to consider before investing in a strategy of your choice.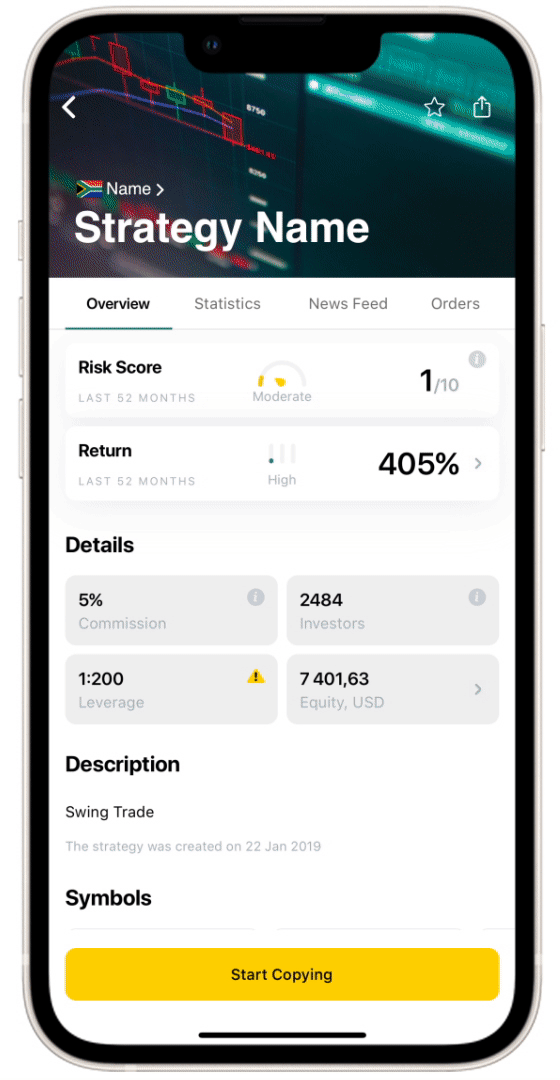 Risk Score
The risk score reflects the level of risk taken. The higher the score, the greater the risk and chance of making money, or losing money more rapidly.
Moderate:

1-5

High:

6-8

Extra High:

9-10
Return
Here shows the growth seen in a specific strategy for the whole period and is updated every 20 minutes. Tapping on the Return card will bring you to the return chart which is updated daily with statistics that calculate the change in a strategy's equity from the beginning of the month until the end of the month.
Details:
This shows the amount of commission paid by investors to strategy providers when an investment returns a profit.
A ratio of the strategy provider's own funds to borrowed funds. Higher leverage means increased exposure to the markets due to an increase in contract size. Leverage does not impact the Risk Score, however.
This shows how many investors are currently copying this strategy.
This is the total value of the account if all positions are closed; it also shows the account currency of the strategy.
Description
This section gives you a sneak peek into the mind of the strategy provider and his motto behind that particular strategy. We recommend that you give it a read.
At the bottom of the details panel, you can also see when the strategy was created.
Symbols
Here you can view the different instruments the strategy provider usually trades in.
About Trader
This section gives you information about the strategy provider; their name, how long they've been with Exness, and where they are from.
The strategy provider's Trading Reliability Level is also shown here. Clicking on the TRL will bring up more details about the TRL.
Learn more about Trading Reliability Level (TRL) in Social Trading.
To read more about them you can click See details. Under this section, you will find a short introduction to the strategy provider which can give you useful insight into their personality and experience with forex.
Trading Period
This is a set amount of time between commission payments and ends on the last Friday of the month.
Minimum Investment
Once you click Start copying you will be asked to enter the amount you wish to invest in that particular strategy. You will see a range of the permissible figures, with a minimum investment amount, which is set by the strategy provider.
All these details are important for investors to find a strategy that suits them the most.