You can find out all about the status of your strategy, its visibility on the Social Trading application, display status, and more from your Personal Area.
Finding my strategy's status
To find out about your strategy:
Log in to your Personal Area > Social Trading tab, then click Your strategies.
Decoding the various statuses displayed
Here is a list of the different statuses and their meaning that you may encounter:
Available for Investing / Not available for investing
This notification is designed to let you know if your strategy is ready for investors to start investing in. Holding your cursor over the notification will open up a window, showing you what the requirements are and the current status of your strategy in terms of meeting them.
This serves as a quick checklist and helps you take necessary action. Follow the link to find out more about why copying actions may become unavailable.
Note: Strategies without trading activity for the last 60 days or more will be automatically archived. An email notification will be sent to traders 5 days before their strategy is auto-archived. Traders with more than 1 strategy to be archived will receive only 1 email with the list of the strategies.

Available in app / Not available in app
Although your strategy may be available for investing, you also need to ensure it meets all requirements for visibility on the app; this notification helps you with that.
Holding your cursor over the notification allows you to see the status of your strategy in terms of meeting the necessary requirements.
Follow the link to find out more about the requirements for strategy visibility.
Blocked
You may encounter a status displaying your strategy as "Blocked". This may occur when the strategy provider makes withdrawals with open orders and gets non-representative returns on low equity levels. The strategy would not be available for new investments although the current investments will remain active. You can create a new strategy. However, the blocked strategy cannot be unblocked.
When a strategy is blocked, your trading account will remain accessible and you will receive commissions at the end of trading periods as usual. Strategy providers should avoid making withdrawals with opened orders to keep their strategies available for investing.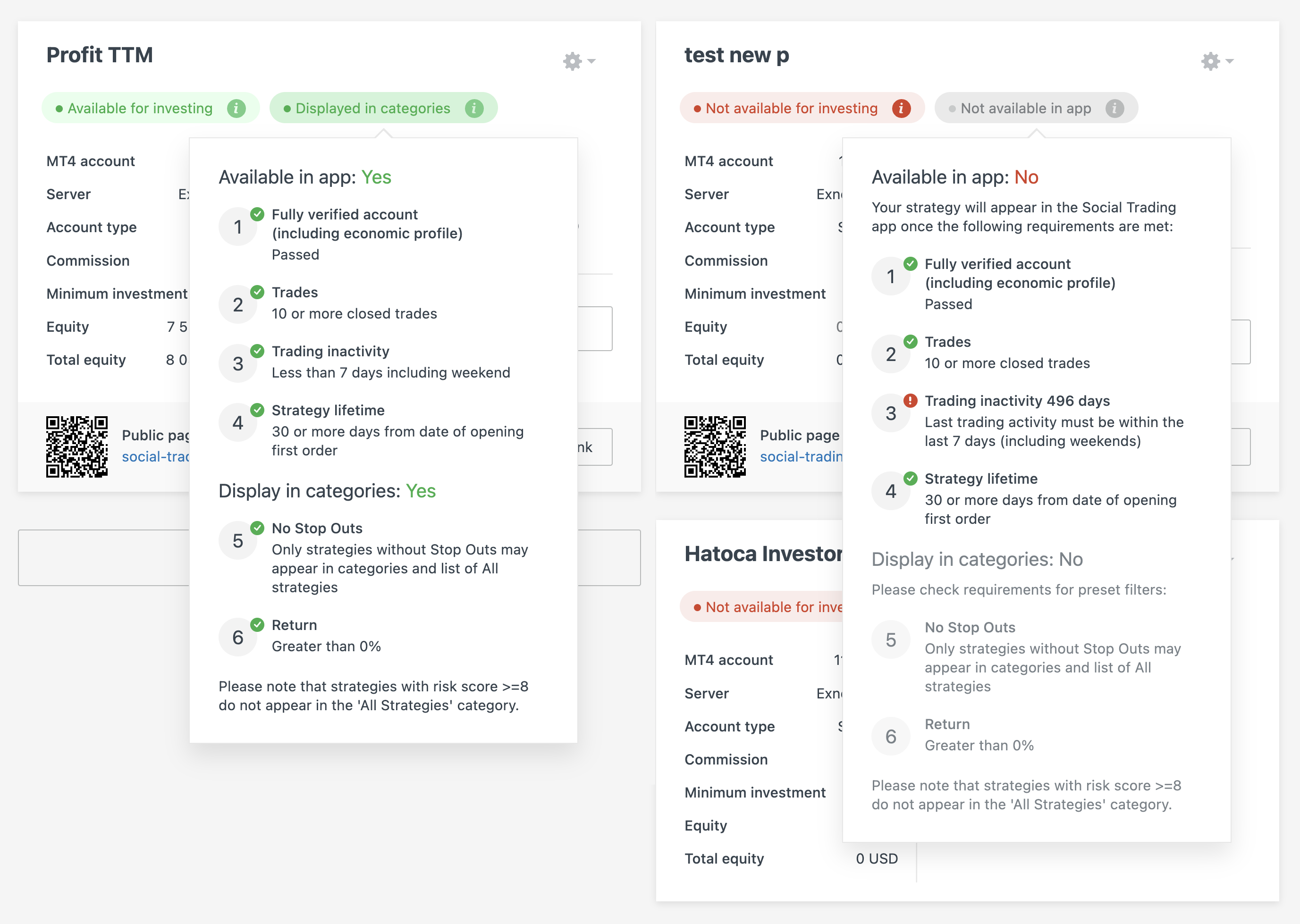 Displayed in categories / Not displayed in categories
There is a preset filter on the app which displays strategies based on the below requirements:
Note: You can change the filter values using the Filters tab on the app.

It is important to note that strategies that experience a stop out are no longer displayed under any categories or in the list of All Strategies on Social Trading; they are only available by direct link.
This notification shows you if your strategy meets the above criteria. Please note that investors are able to change these filters based on their liking.