Return measures the change of equity seen in a specific strategy. It is updated roughly every 5 minutes with statistics that calculate the change in a strategy's equity from the beginning to the end of a specified period of time.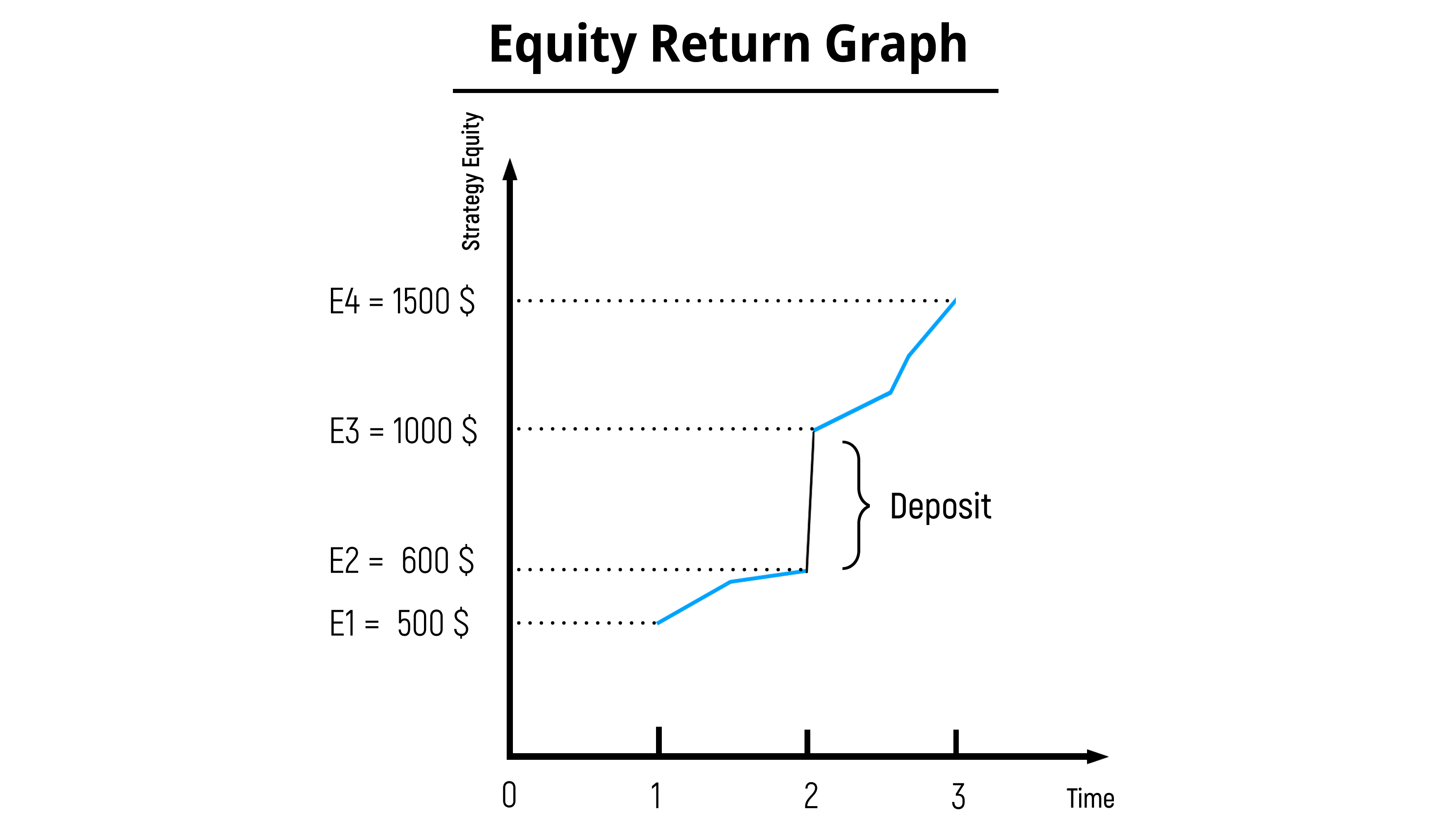 Let's see how this calculation happens:
Parts of the calculation are separated into periods between when an account, deposits, withdrawals, or makes any internal transfer actions, collectively known as balance operations (BO). Return is calculated by multiplying all these periods between the balance operations before the answer is presented as a percentile.
In other words, whenever a strategy provider withdraws or deposits, the return calculation is not influenced at all to prevent artificial results.
Return is constantly updated and compounds over time.
Here's an example*:
In January, the strategy's equity increased from USD 500 (E1) to USD 600 (E2). So January's return is calculated: (USD 600 - USD 500) / USD 500 = 0,2 or 20%
Then the strategy provider made a USD 400 deposit, and the strategy's equity is adjusted: USD 600 + USD 400 = USD 1 000. So the return calculation in February will start not from USD 600 (E2) but from USD 1 000 (E3).
In February, the strategy's equity increased from USD 1000 (E3) to USD 1500 (E4). We can now calculate February's return: (USD 1 500 - USD 1 000) / USD1 000 = 0,5 or 50%

Now we can calculate overall Return:

K1= January Return + 100%, so K1 = 20% + 100% = 120%

K2 = February Return +100%, so K2 = 50% + 100% = 150%

Rolling Return = (K1* K2) - 100%, or (120% * 150%) - 100% = 180% - 100% = 80% So Rolling Return is 80%
Return calculations are strictly made between balance operations (deposits, withdrawals, and internal transfers), of which there is no limit, and that the use of the months of January and February as a time period are for example purpose only.
Basically, Return in previous months is superimposed into ongoing calculations and is only ever reset at the moment of a stop out, continuing as long as the strategy exists.